Let's start with a bit of prior history: Six of us met a little over a year ago in Poland at an 'extreme-cold' seminar by 'Ice-Man' Wim Hof.
Wim holds over twenty Guinness Book records, mostly in the category 'cold'. Among other things for the longest ice bath. He once lasted one hour and 53 minutes in a bathtub filled with ice cubes.
From Wim and his trainers we learn ice bathing, barefoot-barechested-and-keepsilent-through-the-forest-walking at 6 degrees centigrade outside. For over 2 hours. How does one endure such a thing?
The keys are oxygenated breathing and ignoring indications of coldness. But I don't want to go into detail in this post – that will be the subject of a separate article.
The bottom line of the Poland seminar: Through exposure to cold and a breathing technique, the human mind and body can reach undreamt of resources and awaken enormous potentials and resilience.
For example against current diseases (many participants in Poland suffered from chronic and/or long-term illnesses), which by now has also been scientifically proven.
Back to the Black Forest: Michael and I started to drum up a few Polish people for a new challenge in the middle of 2017: 'Hey, how about meeting up somewhere in Europe for a few days. There should be snow there and a mountain nearby that we can climb. Like we did in Poland back in the day.'
Fast forward to January 2018: In Äule, a Black Forest village 'where the streets have no name', seven men lie on their backs with their eyes closed, breathing heavily in a 300-plus-year-old farm cottage.
John, a certified Wim Hof trainer, spurs them on: "Come on guys, now shift up a gear!".
Intense and oxygen-rich breathing has been shown to alkalise the body, making it more resistant to infection. It also promotes general alertness and clarity – and it's all much more fun in a group.
Jimmy, Dylan's cousin, is a complete novice – and he bravely goes along with everything without grumbling even a single complaint: Breathing, sea baths, bare-chested snow hikes. For me slight but clear evidence that anyone can reveal this new wonderful world of freedom – without prior knowledge or training. Courage and confidence are enough.
"Some are asking whether we are crazy"
Nature has created a fascinating masterpiece over millions of years: Our body. I see it like a gift: Some take the gift gently in their hands, carefully remove paper and ribbons, but don't dare to take everything out of the box – because they didn't particularly like the first gifts, they are unpalatable – and now they are simply afraid or too lazy to take out the rest.
Others, on the other hand, want to know what and how much is 'inside'. They are driven by a natural and genuine longing and desire to expose themselves to the unknown and to assign fear the role of wise counsel, albeit not to be crushed by it. To which category would you belong?
Boredom? Craziness? Self-importance? None of these are behind the cold-training on the Feldberg, as two participants reveal in an interview. But fun is definitely part of it.
At three degrees centigrade and under overcast skies, an icy wind lashes at a tour group. Unlike ordinary Black Forest tourists, the seven men are wearing neither skis nor snowboots.
They also do without thermal underwear, functional jackets, even jumpers. Under the slogan "Feldberg bare-chested", they spend a few hours on the highest peak.
Kathrin Blum, probably the most intrepid editor of the BZ, wondered about the squad – and interviewed two of them – Malte Clavin and Michael Szep.
"Deperately trying to find this weird selfie-feature on my mobile…"
BZ: You would have to admit: It's a bit crazy to walk around half-naked on the Feldberg in winter.
Clavin: Well, we can walk barefoot through the snow and bathe in ice water: Our body – the masterpiece of evolution – makes it all possible. We don't need to be afraid, nothing bad will happen. And we are even healthier as a result of our endeavours. We feel freer and stronger.
BZ: And more manly? Meaning: Do you do it to impress others – especially women?
Szep: No. But there is definitely a sense of adventure and thrill involved. More importantly, some of us alleviate illnesses and diseases by doing it: Diabetes, chronic fatigue, skin diseases, respiratory diseases, auto-immune diseases, arthritis – and this has even been scientifically proven.
BZ: Your travel group consists of three Dutch, two Germans, a Belgian and even an Australian. How and where did you find each other?
Szep: That was in December 2016 in Poland near the mountain Schneekoppe at an international extreme-cold seminar. That was a lot of fun.
BZ: What made you go there?
Clavin: Childlike curiosity. The desire to push boundaries by challenging my fears. Often fears are just mental movies: in our imagination we project images that have nothing to do with truth and real life.
BZ: How do you prepare for the cold shock? I mean: What do you do before you go out?
Clavin: Nothing! Oxygen is our only drug. We don't have to specifically prepare for that. But of course you can train yourself to imbibe the cold and toughen up.
For example, standing under a cold shower for a few minutes every day stimulates your metabolism and blood circulation. Ice baths are also beneficial. When you step out of the water afterwards, you are wide awake and top fit. No coffee in the world will do that.
Malte and Dylan 'on the rocks'
Szep: You get used to the cold surprisingly quickly. At the seminar in Poland, every member of our group – there were more than 20 participants – jumped into the ice bath at the end of the first day. And they did it four times in all. Then we realised: anyone can do it.
BZ: How long are you usually outside during a cold-training?
Clavin: It depends on the temperature and the wind. In cold lakes we can last for up to ten minutes. If it's snowing and the wind is cold, we don't stay out forever either. But it's usually one to two hours. The trip to the Feldberg this week took two and a half hours.
BZ: This week it is relatively warm on the Feldberg. Would you have gone through with your campaign even if it had been ten or twelve degrees less?
Clavin: We would certainly have started. I can't say how long each of us would stay on the mountain bare-chested. Everyone is free to put on warm clothes at any time. The first rule is: No competition! No ego, we go. No one is put under pressure.
BZ: How do people react to lightly clad snow hikers?
Szep: The reactions are very different, but mostly positive. Some say: You're odd. Others whistle appreciatively. Still others think we are lost and they want to help us. Some ask if we are cold, others if we are crazy. At any rate, we have already made many people grin.
Clavin: During our drive on the Feldberg, a young woman even took a picture with us.
BZ: You cause a stir, no doubt. But still, it doesn't exactly sound like your campaign is a very comfortable undertaking. How high is the room temperature back home?
Clavin: Actually, for some of us it's probably lower than in an average household. Dylan's home is only 16 degrees.
Szep: You don't have to chastise yourself. Our room temperature is about 19 degrees, when we're expecting visitors it's 22 degrees.
BZ: Who is we? No woman would do that.
Szep: But of course, we have wives at home.
BZ: What do they say about your activities?
Clavin: Just as long as wé let off steam and they don't have to take cold showers or baths with us, everything is okay.
BZ: Do your wives nurse you back to health? Probably your training doesn't lead to sore muscles, but to a man flu.
Szep: You're right – we're not invulnerable either. But we strengthen our immune system. A cold usually eventuates when you were already out of balance, or if there is one person in the group who infects the others.
Clavin: Our immune system definitely has higher defenses because of it all. It's been proven that by doing pure, deep breathing like we do, you regulate the acid-alkaline balance and that takes away bacteria's breeding ground.
BZ: Then you are ready for the next campaign. Where will you go?
Szep: Preferably to Antarctica.
Clavin: That would be really nice, but we will probably meet up in Europe again.
BZ: Not in the Black Forest anymore?
Clavin: Unfortunately no. John, our Australian guy, should also see someplace else. But we did like it very much here.
BZ: What was it that you liked most?
Clavin: Spaetzle and Sauerbraten.
Szep: The views, the clear signposting for tourists. And the beer.
The group that caused a stir on the Feldberg includes Malte Clavin, Michael Szep, Olivier Massa, John Halloran, Luit Gazedam, Dylan de Vries and Jimmy Os.
The men are in their mid-20s to early 50s, and when they're not sticking their bellies out in the fresh air, they work as photographers and business consultants, real estate agents, graphic designers, IT consultants, event managers, data protection officers and construction workers.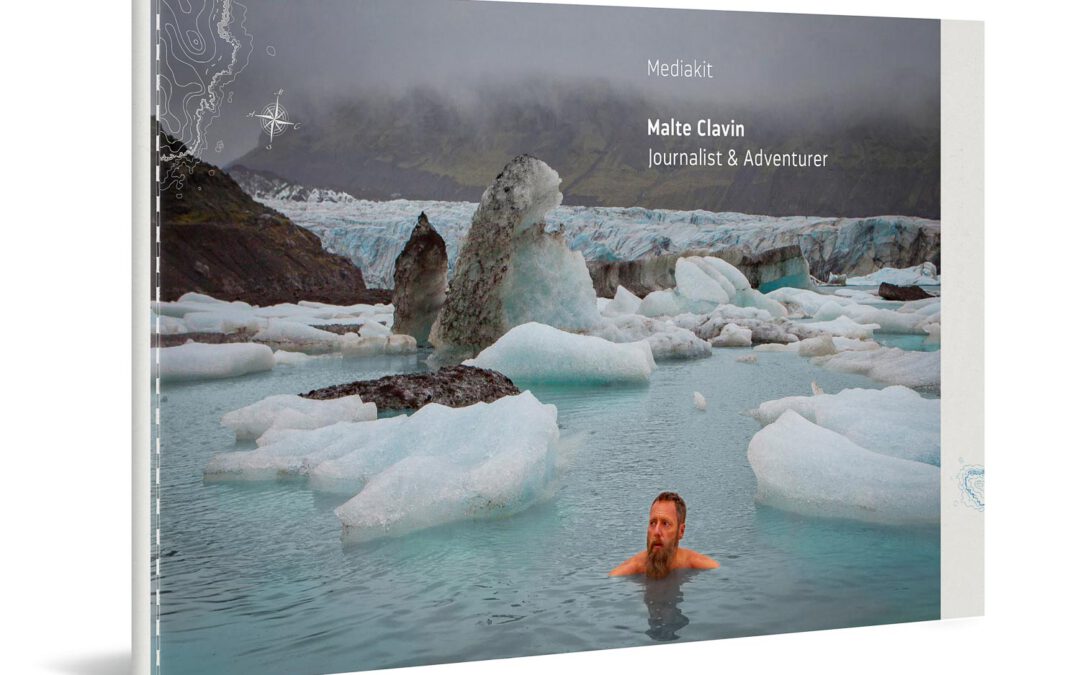 Pure inspiration
< 1 Min. In this brand new 31-page media kit, I show you my work as an adventure journalist and speaker: Expeditions, travels, challenges – everything that excites me. Let yourself be inspired.
Read more