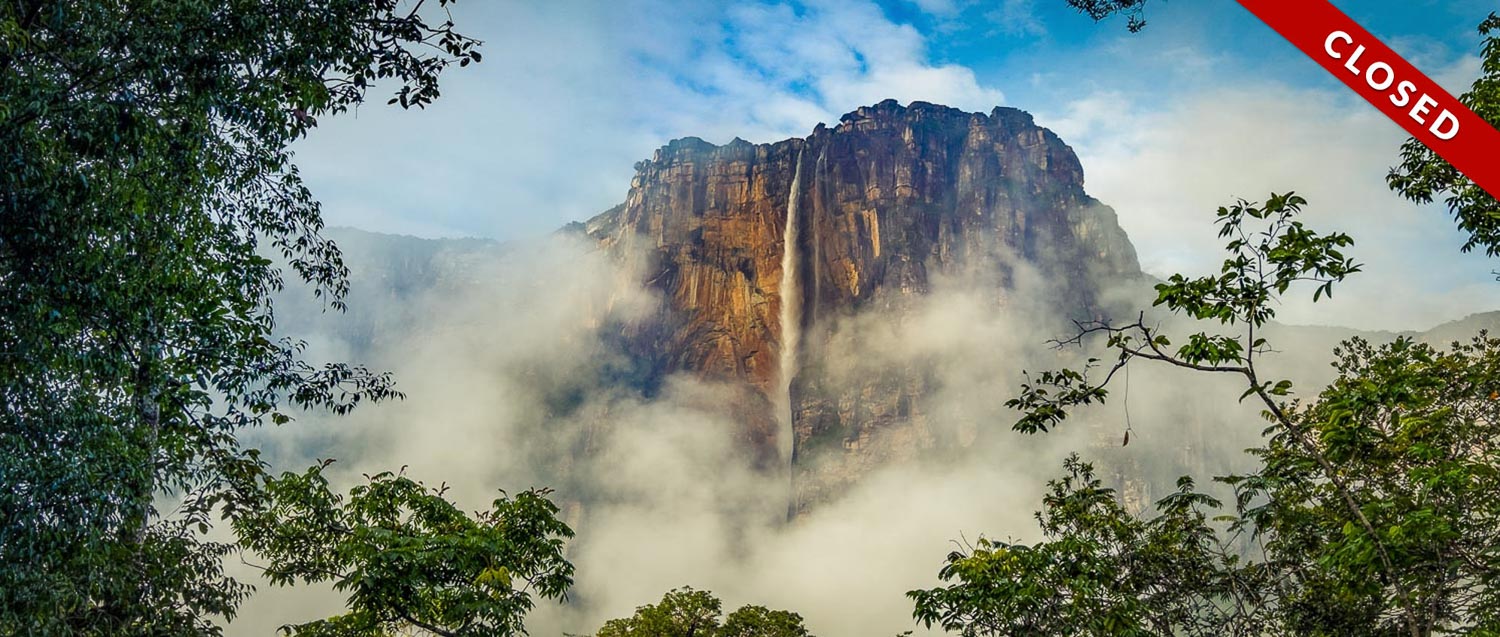 To the origins of Avatar
Table mountains & the world's highest waterfall – pure adventure!
Venezuela | 11 – 25 May 2022
Scientists called Venezuela's waterfall Salto Angel the eighth wonder of the world. The wonderful table mountains inspired James Cameron for his movie Avatar. To me, it is the most spectacular landscape on earth.
For me personally and professionally, this trip is extra-special as it's my personal dream destination! I will go 'all-in'. You can join me while I produce a professional adventure story, no extra cost for that.
If you want to …
learn about adventure storytelling at NatGeo-level
take part in an adventure story production (publication confirmed by a German nature travel magazine!)
spend super valuable Me-time
experience a once-in-a-lifetime adventure
… this is it.
Highlights
The 'eighth wonder of the world': The world's highest waterfall: Salto Angel
Extensive climbing and exploration of one of the most imposing table mountains in Venezuela: Mount Roraima
Joining a professional adventure story production by Malte (look over Malte's shoulder and learn immensely about high-level storytelling and photography
Intensive experience of one of the absolutely most fascinating landscapes and geological formations of our globe
Participation in an expedition of extra class, organized by an internationally recognized specialist
Optional: Helicopter flight over the Salto Angel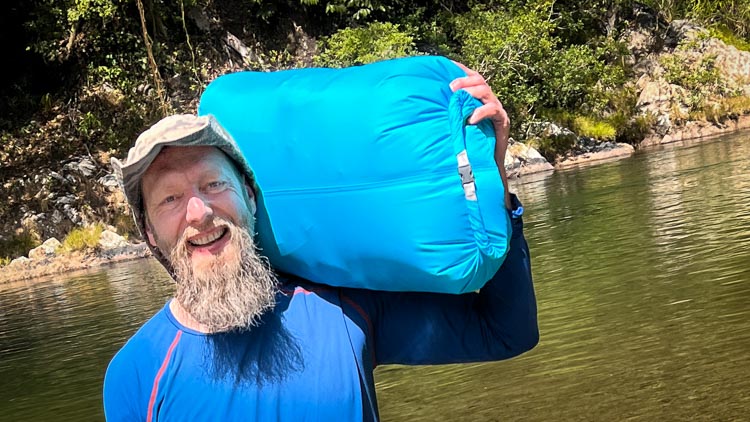 What Malte says
For years, the Table Mountains have been at the top of my adventure bucket list. Now the time has finally come! I couldn't be more excited! Expeditions with this level of excitement happen to me roughly once in 7 years. I can pretty much tell you: it will blow your mind! And you will be grateful for the rest of your life that you took that decision – and that you were there.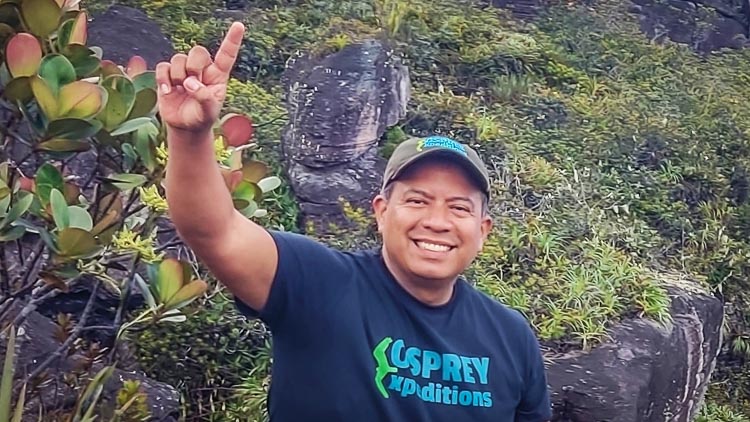 Ben Rodriguez
The Lost World is one of my favourites in Venezuela. For many years, this combination is my best seller. It is a great combination. Since COVID, we now can depart ca. every 3 months – once a group is complete. As always, I am optimistic. I am more than ready to get it for all my clients. This is by far one of the best experiences you can take in Venezuela. Enjoy!
Ben organized this expedition of a Swiss filmmaker. Watch his jaw-dropping movie now!
At a glance
Max. 5 travellers (inkl. Malte)
Date: 11 – 25 May 2022 (Wed to Wed)
Cost share depending on the number of travelers
Price will be around US$ 2,200 and US$ 2,450 per person
Level of difficulty: demanding
Daily activities are sometimes mentally and physically challenging
On the excursions, we may occasionally tackle somewhat more difficult passages (steep, slippery, rocky, edgy, wet) – these are doable for mentally as well as physically stable people (normal, slightly athletic constitution).
Day 1, Wednesday, May 11
Arrival to Venezuela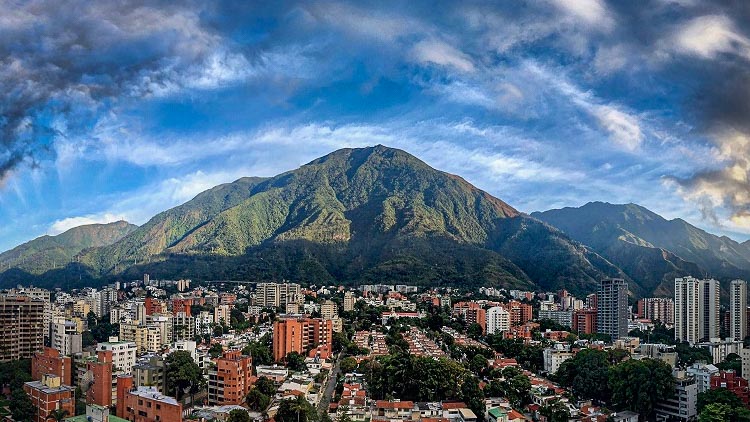 Welcome in Caracas. Airport pick up and overnight by the airport (no meals included).
Day 2, 3, 4, Thursday to Saturday, May 12 to 14
Angel Falls expedition
Flight from Caracas to Canaima National Park on May 12 early in the morning.
All meals  (except breakfast and lunch on May 12, lunch and dinner on May 14).
Boat trip onto Canaima Lagoon and hike to Sapo Falls.
River expedition to the base of Angel Falls.
Accommodation in hammocks in front of Angel Falls for two nights.
Flight out of Canaima National Park to Puerto Ordaz on May 14, no lunch, no dinner included.
Overnight in Puerto Ordaz.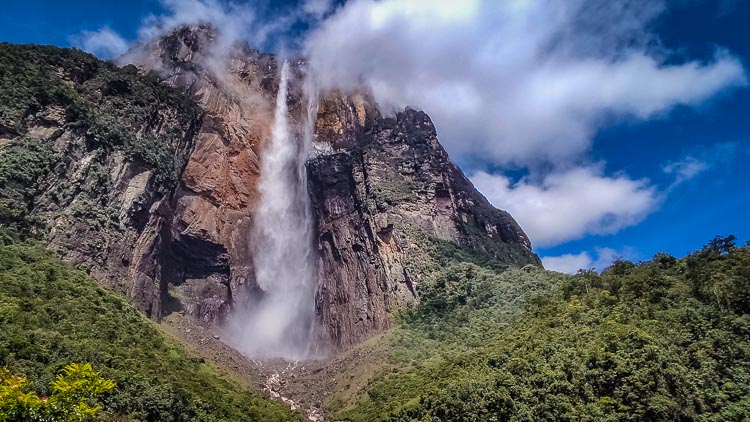 Day 5, Sunday, May 15
Travel day to San Francisco de Yuruani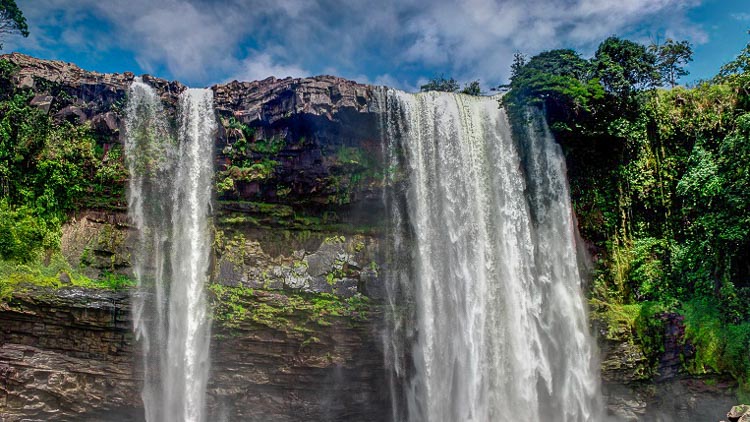 After breakfast 700 km car transfer to Yuruani, crossing Gran Sabana and Canaima National Park, Kama Falls, Sierra de Lema, Tepuis Viewpoint and so much more. Picnic lunch, dinner and overnight at a rustic hotel in Yuruani, the gateway of Mount Roraima (all meals included).
Day 6, Monday, May 16
Parai Tepui – Tek river
We will drive to Parai Tepuy (1.600 m above sea level) to hike nearly 5 hours through the open savannah before reaching the Kukenan Camp at a height of 1.050 m. You will cross two rivers which can be difficult when the Kukenan grows after rainfall. Our guide and porters will set up the camp for a nice dinner in the foothills of Roraima. 14 km hike, 5 hours (all meals included).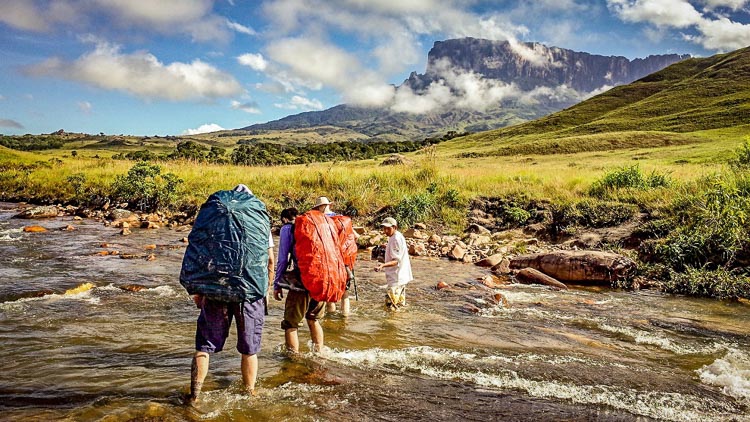 Day 7, Tuesday, May 17
Tek river – Roraima base camp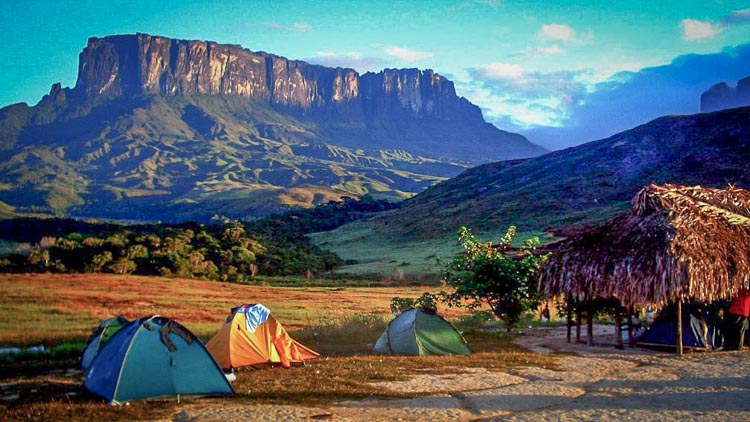 Today we will hike 10 km to the Base Camp of Roraima located at 1.850 m above sea level including a challenging walk of around two hours. Cross lowland savannah and beautiful landscapes covered with orchids and fascinating plant life and enjoy spectacular views of the walls of the mountain before taking a refreshing swim in the river nearby the camp. About 5 hours hiking (all meals included).
Day 8, Wednesday, May 18
Roraima base camp to the top
We will have a steep hike for about 3 hours (1,5 km) through the jungle as we reach the top of The Lost World at 2.700 m. Afterwards, we will be exhausted and amazed by the beauty and the overwhelming number of ferns, bromeliads and other rare plants.
The sheer wall of Roraima is ahead, and it's a tough climb to the summit at 2.700 m. The path continues through the jungle and onto the plateau, where there is time to explore with fascinating views of interesting rock shapes as a result of 2 billion years of erosion. The Prehistoric and unusual plants up here are a wonder to behold.
Some of the surfaces look like walking on the moon and the views from the Summit piercing through the fog are unbelievable. Our tents will be set up in natural caves for 2 nights, providing protection from the frequent mists and showers on top (all meals included).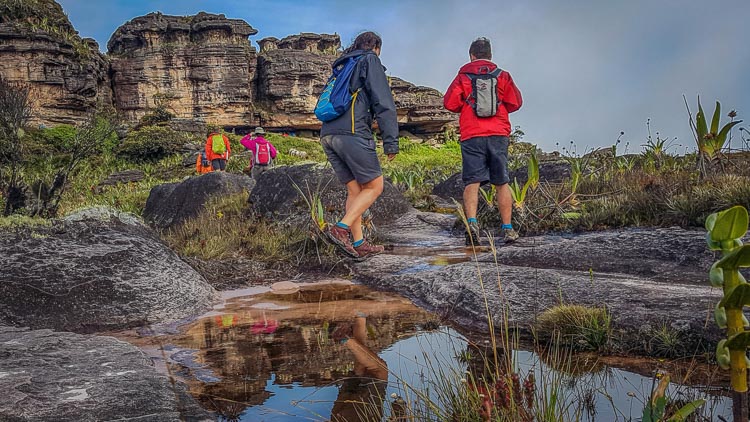 After crossing the Valley of Tears we will finally climb the Roraima top
Day 9, 10, Thursday and Friday, May 19 to 20
Roraima top – Triple Point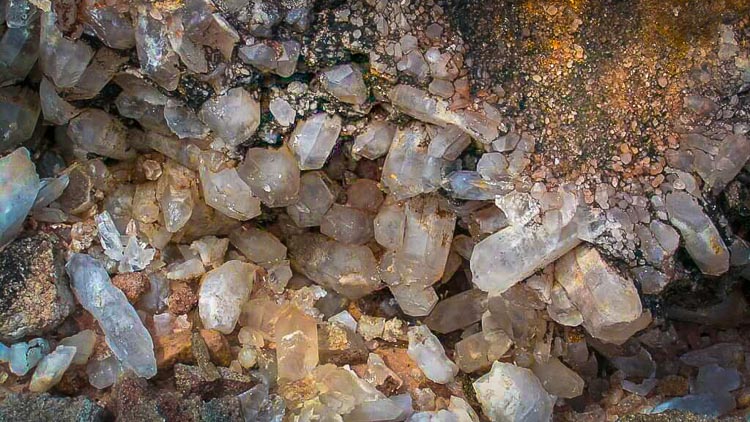 We will explore the fantasy land atop Roraima Whose massive summit is 45 km long and 20 km wide. We will visit the Crystal Valley where we find strange and beautiful quartz rocks and a bizarre landscape.
We hike up and down, cross creeks and boggy terrain, pass through natural labyrinths with great views of the Gran Sabana and Kukenan Tepui window.
We enjoy a refreshing swim in the natural jacuzzi with red, sand, and golden colours on its waters. We will relax and get ready for the descent of 7 hours. Overnight in tents set in a natural cavity (all meals included).
Day 11, Saturday, May 21
Roraima Top – Tek River Camp
Today we will hike down 10,5 km for about 7 hours to Tek River enjoying some of the last views of the walls of Roraima (all meals included).
Day 12, Sunday, May 22
Tek River Camp – Parai Tepui
We will walk about 4 hours to Parai Tepui. Leisure afternoon to relax. Overnight in San Francisco de Yuruani (only breakfast).
Day 13, Monday, May 23
San Francisco de Yuruani – Puerto Ordaz
Early drive to Puerto Ordaz. No meals included.
Overnight at a local posada.
Day 14, Tuesday, May 24
Puerto Ordaz – Caracas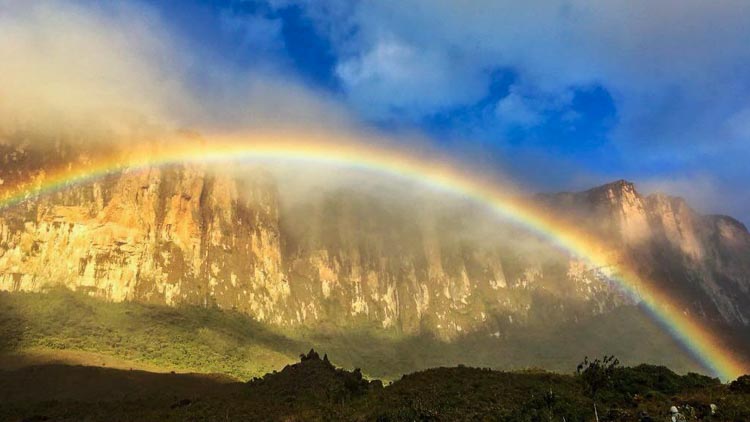 Morning flight to Caracas. End of tour
Day 15, Wednesday, May 25
Buffer day and departure
Time to explore Caracas. Departure (no meals included).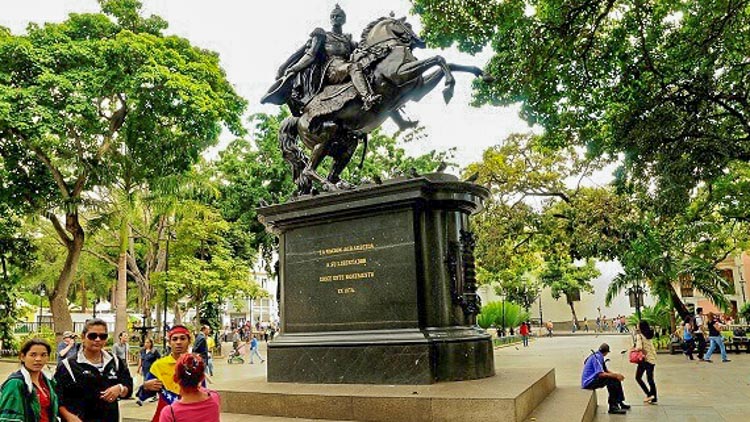 Included
Accommodation:
Angel Falls: 2 nights in shelter camps with hammock
Roraima: 5 nights in tents. We will use rustic posadas in San Francisco de Yuruani and very standard accommodation in Puerto Ordaz and Caracas Airport.
Transportation:
Travel by private vehicles, foot, boat, 2 domestic flights
Meals:
As outlined in the itinerary (Breakfast, lunch, dinner)
Excursions & Activities
Angel Falls River Expeditions+ Canaima Lagoon + Sapo Falls and/or Hacha Falls + all transfers IN & OUT Roraima Trek.
Excluded
Gratuities
Porters
International and domestic air tickets to the gateways of Canaima
Travel insurance (mandatory)
Alcoholic and soft drinks
Spending money – budget for meals, snacks, drinks, limited souvenirs, laundry, tips and any extras
National Park fee in Canaima US$ 20
PCR-test is mandatory with negative result 48 hours prior to the Angel Falls Expedition.
"All journeys have secret destinations of which the traveler is unaware." (Martin Buber)