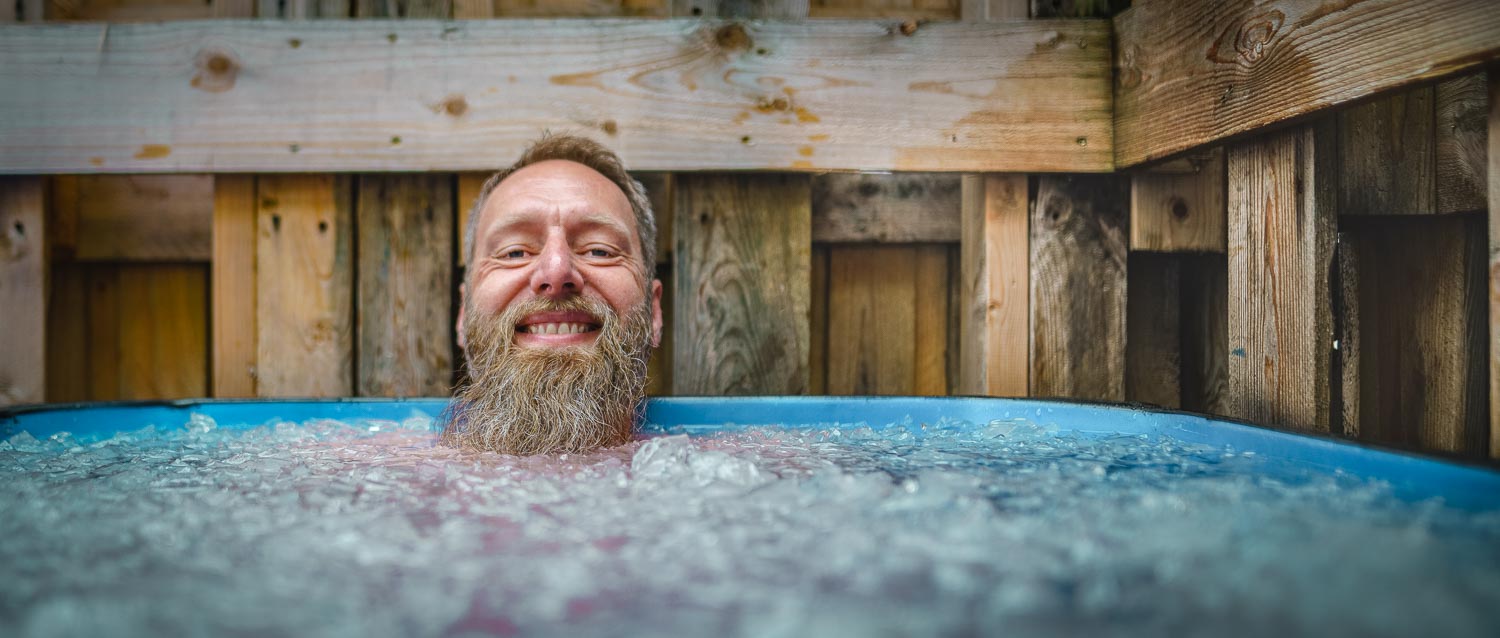 Early Summer ice bath
'Cool' into the warm season
Berlin | 14.05.2022 | 11 am to 4 pm
For the third time already there will be breathtaking facts, great talks and lots of fun – of course with the highlight ice bath! Wim Hof Instructor Daniel Ruppert will lead us through breathing sessions, know-how lessons and completely relaxed into the ice bath. It doesn't get any cooler than this!
Programme
Ice baths – an ultimate challenge & experience
Theory and scientific background on breathing techniques and cold exposure
Energy breathing
'Monkey Mind' meditation: the 8th sense – selfperception, introspection
Fire breathing: Brown fat activation
Time for conversation & connections
Homemade, delicious snacks & drinks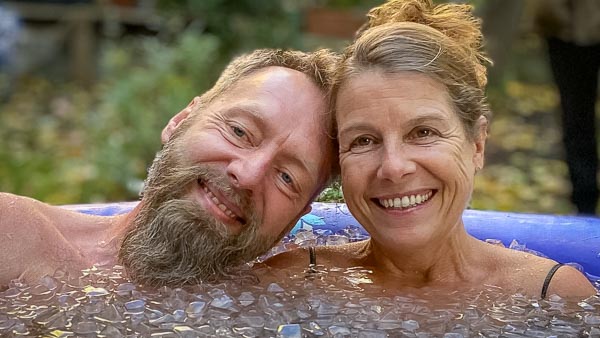 Annette & Malte
"We just have a lot of fun hosting like-minded people and having a brilliant five hours. Our biggest treat is seeing who connected with whom at the end of the (sometimes still unplanned long) day – and what amazing developments everyone has made for themselves."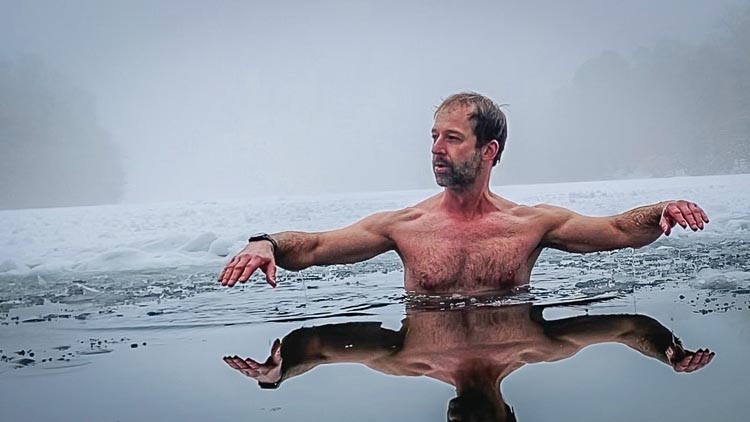 Daniel Ruppert | Wim Hof Method Instructor
"I love supporting people to feel happy, strong and healthy. As a Wim Hof, breath and meditation coach, I advise people on how to create better access to inner forces with a healthy body and happy mindset.
The most important things at a glance
The workshop is structured so that we can master the ice bath in the garden in all weather conditions
When: Saturday, May 16, 2022, 11 a.m. to 4 p.m.
Where: At Annette & Malte's (10965 Berlin-Kreuzberg) – exact address after registration.
What: Theory & practice on cold exposure (including ice baths), breathing sessions, snacks & drinks.
Price: 95 Euro
Registration: Until April 16, 2022 – via the contact form below.
After registration has been made we will send detailed info about the event.
WIM HOF METHOD
Cold, breathing, mindset, energy management
A stress response is an innate reaction of the autonomic nervous system and marks a situation that the brain wants to manage. So as a result, we get excited: the heart beats faster, the blood flow is redirected, energy is mobilized – in order to be able to cope with the situation by fleeing, fighting or playing dead. Once the stress-triggering situation has been overcome, the body slowly returns to its natural balance.
For many people, this natural stress response is largely out of control because the amount of stress-triggering impulses has increased enormously. In contrast, the positive effects of stress – e.g. increased alertness and sensory awareness – are little known and remain unused.
"If you can learn how to use your mind, anything is possible." – Wim Hof
Learning to deal with stress means managing your energy effectively. And that is a matter of inner attitude, the right metabolism and the right biochemistry. This 'trio' constantly reports the state of the energy supply to the body and brain. These can then – depending on the current level – retain energy or activate it in the requested amount.
In this workshop we will use conscious breathing techniques, guided meditation exercises and cold training to naturally alternate the body between relaxation and stress. In this way, mind and body – mindset and bodyset – will be trained to return to natural balance faster, longer and more efficiently.
WHAT OUR PARTICIPANTS SAY ABOUT THE NEW YEAR'S ICE BATH…
A wonderful happening
"A wonderful happening! Breathing sessions, a fascinating talk and careful ice bath instructions by coach Daniel. Very inspiring conversations. And very nice home cooking by Annette. Many thanks to all!"
– Thomas Dönnebrink, Berlin
Getting to know the limits of the body
"No, I don't like cold very much. But I do like taking on new challenges. This is not primarily about ice bathing, but about proper preparation, the breathing technique and getting to know the feeling of stress reactions and limits of the body. The entire workshop with Wim Hof instructor Daniel Ruppert was exciting, educational and the effects on my body impressive."
– Marzi Wrobel, Berlin
Incredible experience
"The fact that cold exposure has many health benefits brought me to a Wim Hof session with Daniel Ruppert yesterday. It was an amazing experience for both body and mind. Sometimes overcoming your own limitations releases unexpected self-awareness experiences."
– Imre Marten, Berlin
Rating: Highly recommended!
"I was pretty panicky about the cold: taking an ice bath at 2 degrees outside temperature is not exactly tempting… But curiosity won out and the confidence that the workshop would already guide me. And: expectations surpassed! It was phenomenal, I learned a lot and since then I have been taking ice-cold showers in the morning. Rating: Highly recommended!"
– Peggy Reichelt, Berlin
I faced my greatest fear
"I faced my greatest fear: Cold! Thanks to Daniel for so much 'cold' knowhow. Thanks to Malte & Annette for your 'warmth' and the great day!"
– Fee Beyer, Berlin
A very nice experience
"We enjoyed it very much being together with you and were very taken with you as hosts. Your openness and generosity were very comforting and just right for the challenging adventure of ice bathing! It was intriguing to see a group of strangers become a collective after the ice bath. It was a very nice experience which we will always remember".
– Stephanie and Enno Pohl, Dresden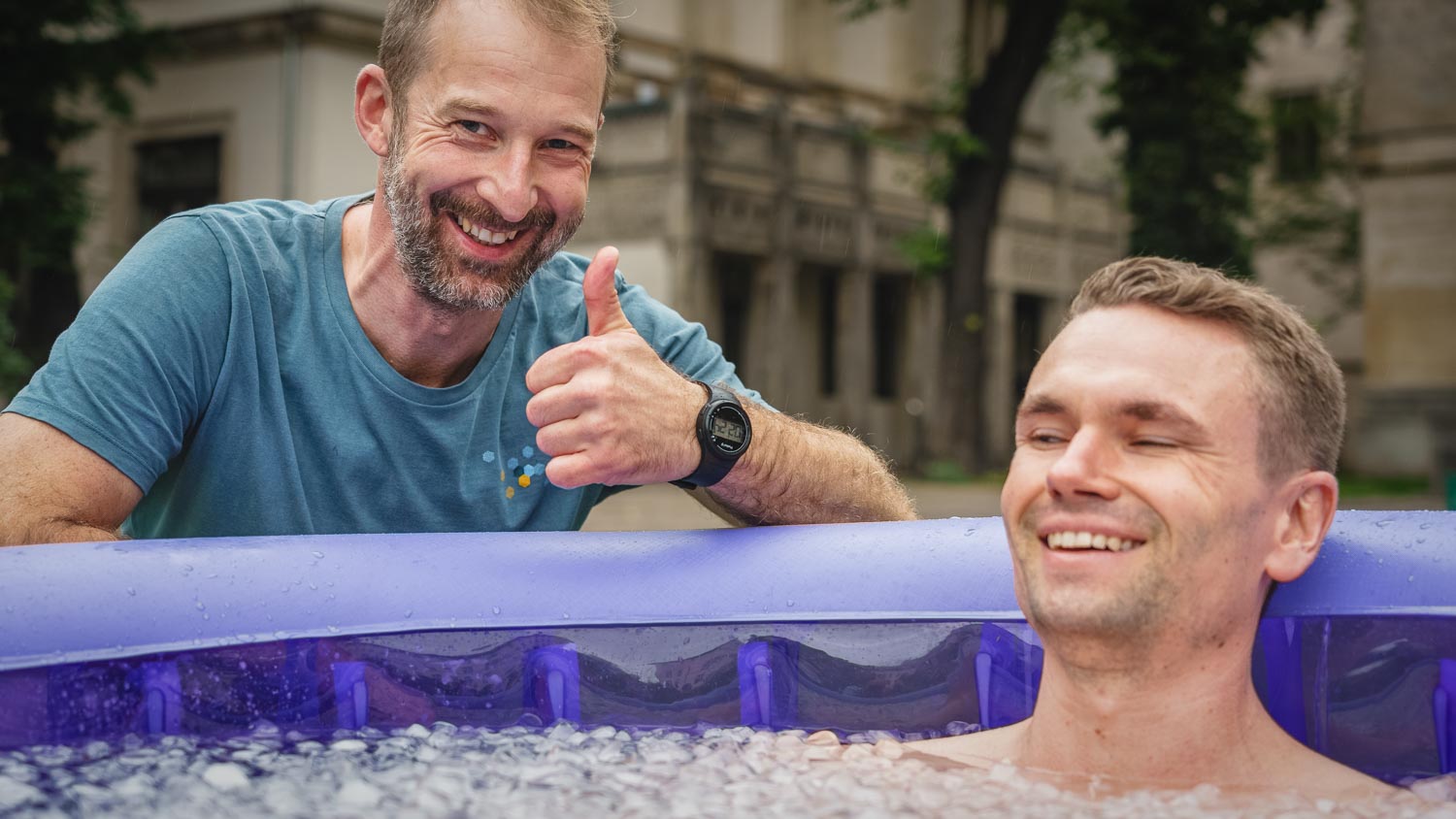 Wim Hof instructor Daniel Ruppert gets everyone into the ice
Curious?
Yes, I am interested, would like to learn more
and would be happy to receive a call/email from you: